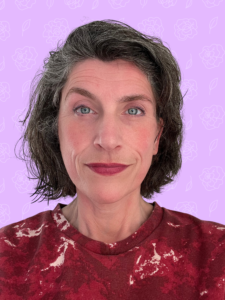 As a "hybrid" worker, a Jill-of-all-trades I've practised myself professionally in several creative professions, which I pursue all at the same time. I direct, write, speak, train, lobby, perform, host, organize, preside, connect and sing.
I'm a human rights advocate. In 2015 I was the Dutch Women's Representative in the Netherlands delegation to the United Nations General Assembly. I was the first women's representative ever to address the assembly on human rights, equal rights for LBT-women and intersex people.
I am well known within the lesBian community for the Dutch Sing-a-long, which I've initiated in 2005 and continued for 18 years in gay-mix straight friendly Saarein women's bar. I am the founder of the OndersteBoven foundation that advocates for the visibility, emancipation and thus equal rights for LBTQI+ women.
Until October 2016 for 2,5 years I was the director LGBTI emancipation for the Amsterdam Pride. For the first time since 1994 we organized a special edition of Amsterdam Pride, namely the pan European festival EuroPride from July 23 – August 7 2016.
Diversity and Inclusion make up half of my work as a strategic advisor and trainer for the FNV. In 2019, I produced the Diversity and Inclusion Vision Day for the union, which we are rolling out at all levels.
That year my world was turned upside down when I was diagnosed with breast cancer in both breasts; luckily in an early stage, so the damage was limited to breast-conserving surgery on both breasts and a month of radiation.
On my first working day in 2020, the lockdown started due to Corona. At that time I conducted research into discrimination against LBTQI+ and non-binary people for the municipality of Amsterdam, and in the summer of 2022 I obtained a basic certificate of "Vertrouwenspersoon" that I could redeem for the first three months of 2023 as an interim worker at a great organization.
In the summer of 2022 I was with the Pride Chantant of the Nederlied Foundation. An excellent opportunity to bring my great love, singing and my favorite activity, activism, together in this production.